Ice Rink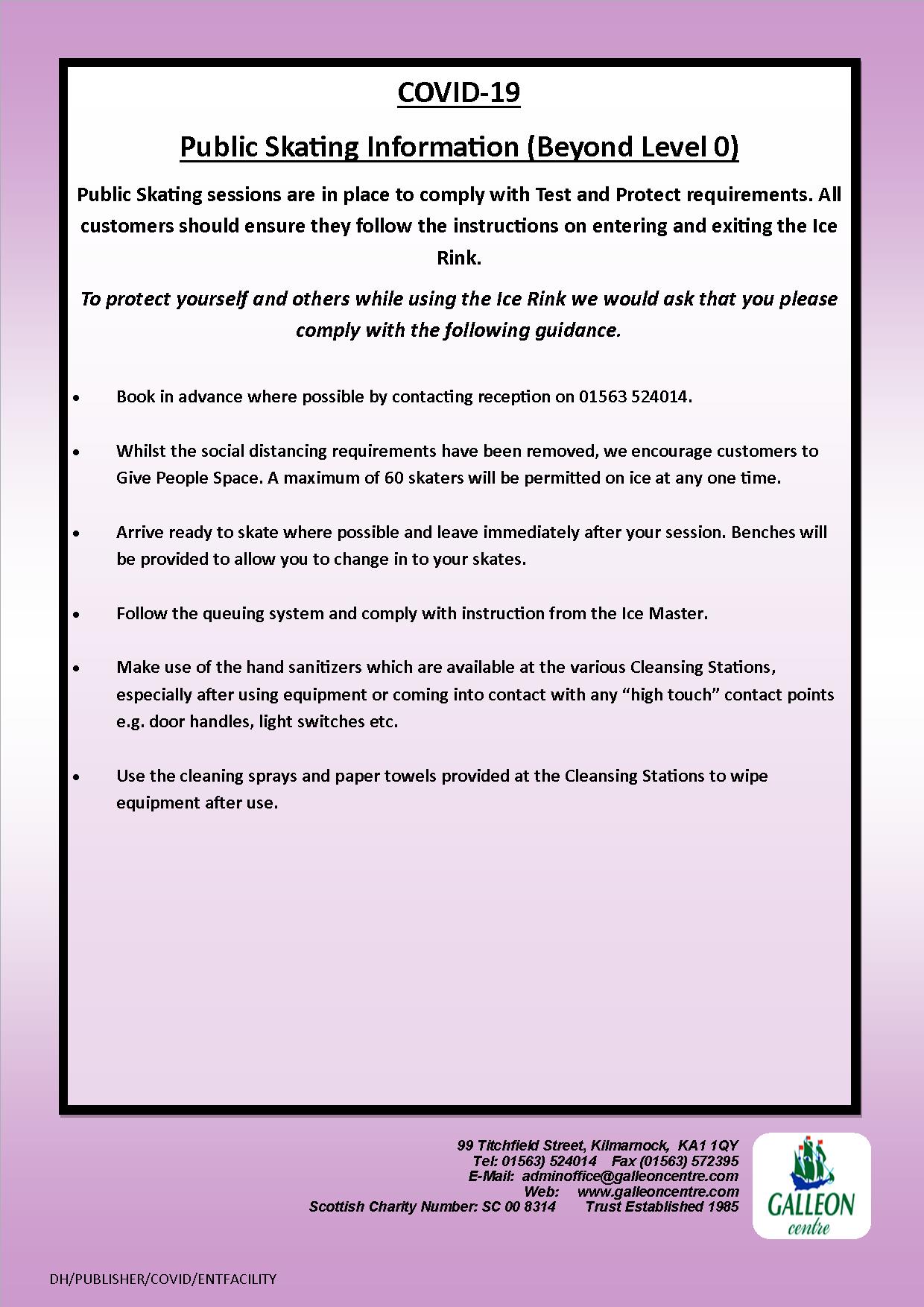 The Ice Rink offers a variety of sporting activities including Figure Skating, Curling, Ice Hockey and Recreational Skating.
Due to the nature of seasonal sport the Ice Rink programme is divided into a Summer and Winter Schedule.
The Summer Schedule operates from March through until September and provides specific times for Figure Skating, Ice Hockey, Public Skating and Skating Lessons.
The Winter Schedule operates from September through until March and includes the same activities available during the Summer Schedule plus the sport of Curling which is available during Mondays, Tuesdays and Wednesdays.
Ice Rink Programme


The timetable below is not currently in use. For updates on public skating sessions, please visit our facebook page or contact reception on 01563 524014.

Summer Schedule:
Monday
06:30 - 09:00
09:30 - 15:45
16:00 - 19:15
19:30 - 21:30

xxxx
xxxx
xxxx
xxxx
Tuesday
06:30 - 09:00
09:30 - 15:45
16:00 - 20:30
20:45 - 22:30

xxxx
xxxx
xxxx
xxxx
Wednesday
06:30 - 09:00
09:30 - 15:45
16:00 - 18:00
18:30 - 19:30
20:00 - 23:00

xxxx
xxxx
xxxx
xxxx
xxxx
Thursday
06:30 - 09:00
09:30 - 15:45
16:00 - 19:00
19:15 - 23:00



xxxx
xxxx
xxxx
xxxx
Friday
06:30 - 09:00
09:30 - 15:45
16:00 - 19:15
19:30 - 00:00

xxxx
xxxx
xxxx
xxxx
Saturday
06:30 - 11:00
11:05 - 12:05
12:30 - 14:00
14:15 - 22:00

xxxx
xxxx
xxxx
xxxx
Sunday
06:30 - 10:00
10:15 - 21:00

xxxx
xxxx
This programme is subject to availability - Please check with reception for availability of public skating
Skating Lessons
Lessons for all ages from under 5's (Thursday 15:25 - 15:45 hrs) 5 and over (Saturday 11:05 - 12:05 hrs Grades 1 to Gold Star).
View Skating Lesson Price List
For more information contact reception on 01563 524014 or to be added to the waiting list for lessons, please click here to register.
Figure Skating
The Galleon Ice Dance and Figure Skating Club (G.I.D.F.S.C) operate out of the Centre on a Thursday and Friday evening and Saturday morning each week. The Club cater for every level of skater from Grade 1 beginners through to the more advanced figure skater (level 1 plus).
For information on joining the Club visit www.galleon-figure-skating.com or email This email address is being protected from spambots. You need JavaScript enabled to view it.
Ice Hockey
The Kilmarnock Junior Ice Hockey Club (KJIHC) play and train at the Galleon Centre on a weekly basis. Their aim is to encourage participation at an early age and teach the children basic ice hockey skills at a beginners level with a view to players progressing as quickly as possible through the learn to play group into one of the teams playing competitive hockey.
The Club meet on Thursday and Friday nights from 19:30 – 24:00 hrs. Games take place on a Saturday 15:30 – 22:00 hrs. Learn to play sessions (beginners) take place on Saturdays 14:15 - 15:15 hrs.
For information on joining the Club visit www.kjihc.org
Curling
Curling has been a feature sport at the Galleon since the Centre opened in 1987 and some of our current curlers have played here since then.
Curling takes place on a Monday, Tuesday and Wednesday during the season which runs from the last week in September until the last week in March. Some of our larger clubs will also play at least one competition (Bonspiel) each year, normally on a Sunday.
At the beginning of each season we provide ice free of charge for the clubs to use as a "come and try night" to try and attract new players for the clubs.
Recreational Skating
At Public skating sessions we accommodate individual skaters, group bookings, schools, special need groups (wheelchair friendly) and much more.
An Ice Disco takes place on the last Saturday of each month from 12:30 - 14:00 hrs.
Contact Reception on 01563 524014 or view our timetable above.